Roll over image to zoom in
Click to open expanded view
Versatile Power Hub: Retractable 4-in-1 Car Charger Solution
$7.96 – $36.73
overview 
Experience the future of electric vehicle charging with our Fast Charging technology. This innovation is a game-changer for EV users and is designed to reduce charging times significantly. Imagine traveling longer distances with the convenience of swift charging, optimizing energy consumption for a win-win scenario.
Our EV chargers enhance user convenience and contribute to a more efficient and sustainable grid system.
Embrace the era of Smart Charging. Beyond the speed, our technology offers cost-saving advantages through optimized charging times and intelligent grid management. It's not just about charging—it's about maximizing efficiency and minimizing costs for a seamless and economical EV experience.
Join us in revolutionizing the way we charge electric vehicles. Fast Charging, Smart Charging, and Battery Energy Storage—because the future of electric mobility is not just about driving; it's about charging smarter and more efficiently for a cleaner and greener world.
Product information:
The epitome of convenience and versatility for on-the-go charging. With an impressive maximum output power of 45 watts, this car charger is designed to meet the diverse charging needs of your devices.
The USB output interface ensures universal compatibility, making it suitable for various devices, including Xiaomi smartphones like Mi8, Mi6, Mi5, and more. It's also compatible with iPhone models, LG smartphones, Samsung Galaxy devices, Xiaomi Mi series, ASUS Zonfone, and more.
Powered through the car cigarette lighter socket, this compact charger perfectly blends power and portability. Its mini size (70x40mm) makes it an unobtrusive addition to your car, ensuring you have a reliable power source without compromising on space.
Crafted from durable plastic, this charger is built to last, providing a reliable and efficient device charging solution. Whether on a road trip or a daily commute, our Mini USB Car Charger is the ideal companion, ensuring your devices stay charged and ready for action.
Experience the convenience of a fast car charger with our feature-packed device. From its compact design to its extensive device compatibility, this charger is a must-have for anyone seeking a reliable on-the-go charging solution. Upgrade your driving experience with the Mini USB Car Charger – your go-to companion for staying powered wherever the road takes you.
Fast Charge Car Charger One For Four Car Mobile Phone Charger Car Charger
Packing list:
Car charger x1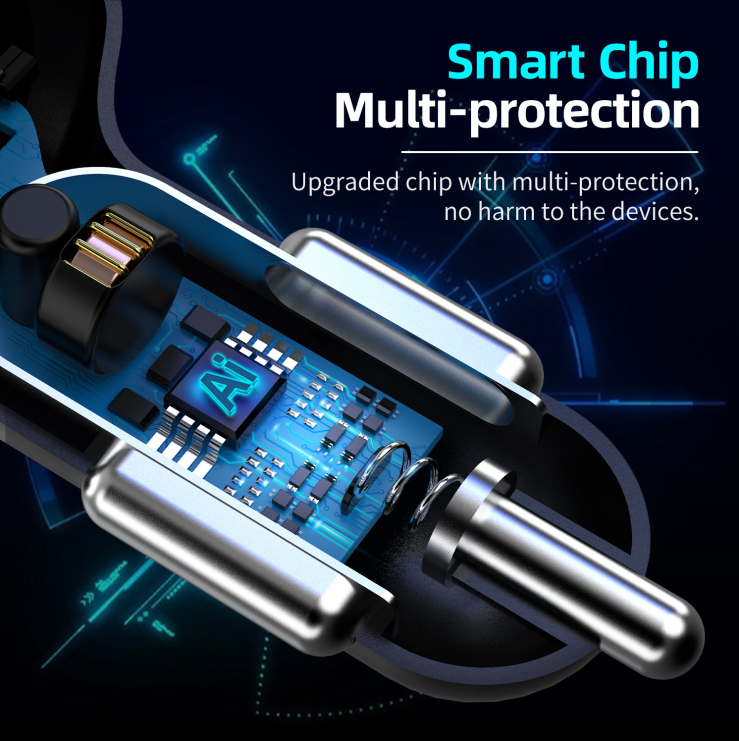 Additional information
| | |
| --- | --- |
| Weight | 0.03 kg |
| Dimensions | 100 × 100 × 80 cm |
| Color | Black, Black A, Black set, White, White A |